Here's one of my blog entries...
Looking for an affordable custom mobile phone application?
I remember when I was looking to have someone build a mobile app for my ipad it was going to cost me around 6,000 dollars.  Oh, and that was just for an custom ipad app, that meant that I still had to pay for an android application if I wanted to make sure that people with an android phone and a iphone would be able to view my mobile app.  Let me say, that I am sure it was going to be really nice mobile application but I couldn't justify spending 6K on a single mobile app.    Well, I finally found a really affordable alternative for my mobile app needs and I wanted to share my findings with you. I have just partnered with a company that can create mobile apps for a fraction of the cost.  I mean a mobile phone application for any business, is now available! Now, any business can have an official mobile phone application in the iTunes, Android, and Blackberry app market, at an unbelievably low price.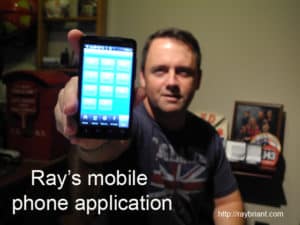 Check this out, the average custom application development can exceed $10,000 for a single platform, (i.e., Android, iPhone). However with my, mobiresponse touchpro solution, any business can have an application developed for the introductory set-up price of only $595 with $50 per month hosting fees. This makes it affordable for any business! Here are great reasons why your business should have it's own mobile application. Mobile application development services include:
GPS Mobile Coupons for your favorite android, blackberry or ipad device
- Start automating your rewards and coupons based on visits to your store or event. They can simply check in using your app, and the GPS will validate that they are there and keep track of their visits to automatically send them the coupon after the right amount of visits. It's like having virtual punch-cards.
Mobile applications for keeping your customers close

- With so many different ways to contact your business, put them all in one location and let them decide - phone, website, email, and directions to your business.
ipad, android app fan page app builder -Create instant social proof by letting customers post comments to your Fan Wall. There is no greater spokesperson for your business than a happy client.
Custom mobile calendar and event listings - Organize and display all of your business's events inside of your application. Keep your customers up to date on your next sale or communicate a public relations event via your mobile application!
Mobile application for mailing lists

- Use your app for a convenient method of lead capture or data collection.
Complete social media integration using our custom designed mobile builder - Integrate your Facebook page to connect with your customers in the most popular social network in the world.  Integrate your Twitter page to connect in real time and integrate all the features that have made Twitter a powerful business tool. Integrate your LinkedIn page to connect your app to the professional contacts and professional groups of your customers.
And much, much more... For a full review watch my video below: [You or any of your customers can have an application just like this one for their business. Any tab can be customized, as well as all the content.] If you are looking for a custom android app or ipad app, we have you covered.  Our software engineers are standing by to help you get started.  Contact our team today.
© 2019 Firefighter and Entreprenuer