Here's one of my blog entries...
First, let me clearly tell you that I do not receive any compensation at all for sharing this information with you. Also, I DID NOT LITERALLY STEAL A SPRINT EVO PHONE

:),

but I did get an unbelievable deal on one

. Why am I sharing this information with you?  First, I am all about helping people. Second, have you ever just had a really good conversation with a sales person who didn't try to sell you everything and someone that you felt was a good person and who exceeded your service expectations?  Well, that is the type of phone call I just finished with a gentlemen who I talked to for the first time today named, Tyler.  So let me share the deal with you and reward Tyler for his great customer service.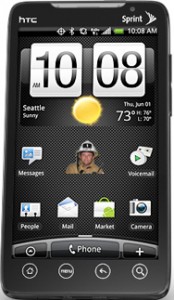 Ok here is the deal. I just got a great price on a brand new Sprint EVO phone for 100 dollars.  Also, my rate plan is the cheapest I ever paid on any cell phone provider because I was eligible for a 26% discount on my monthly bill.  You can call Tyler at 702-6044395 and he may be able to send the phone via overnight delivery like he is doing for me. Peace, Ray
© 2019 Firefighter and Entreprenuer